2015-07-29
by , tagged as
I don't really know what to say as of late. I've been around but I've been hiding in the background. When you end up having to read appellate court decisions, Inspector General audit reports, GAO audit reports, and ponder if your job will be funded into the new fiscal year...life gets weird. This is the closest illustration I can find of what I do at work: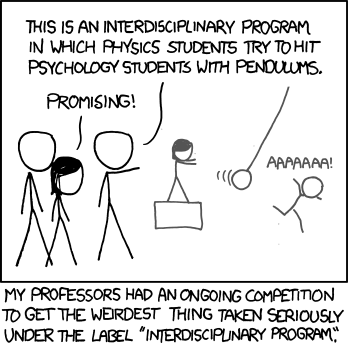 With all the storm and stress that some persons seem to be trying to raise in the *buntu community I feel it appropriate to truly step away formally for a while. I'm still working on the cross-training matter relative to job functions at work. I'm still occasionally working on backports for pumpa and dianara. I am just going to be off the cadence for a while.
I'm wandering. With luck I may return.
In general, I don't like talking about products that haven't even had their formal presentations yet at places like DEF CON. As reported in The Register, a gentleman at Rhino Security named Benjamin Caudill created hardware to provide a 900 MHz remote bridge to a distant Wi-Fi network. Wired also takes time to write about this.
There are many, many, many problems with this. If anything I could write an entire "occasional paper" for presentation about this. While the security expert in question may have designed this system it runs afoul of FCC regulations in the United States at the barest minimum. Part 15 of Title 47 of the Code of Federal Regulations has many provisions that deal with unlicensed devices like this proposed hardware proxy that also stipulate hard power limits.
Having a 125 milliwatt signal carry for a mile is under rather optimal conditions considering that the device would be a secondary user of the frequency band and legally required to shut down if it interfered with licensed users let alone the primary Industrial/Scientific/Medical device users of the the band. In general it seems like 47 CFR 15.247 might apply. This section deals with spread spectrum hopping and how broad of a frequency range signals can hop over. For faster speeds via RF links you need broader RF signals that measure in the megahertz wide. If you have narrower bandwidth restrictions (not to be confused with wired broadband throughput), you are assured of not having a fast link.
Running outside the rules and playing poorly in the radio band is generally not tolerated. Amateur Radio (a.k.a "ham radio") operators use 902-928 MHz in ITU Region 2. For our discussion's purposes ITU Region 2 can be defined as the Americas, the Caribbean, Greenland, and some but not all islands in the eastern Pacific. Amateur Radio operators also engage in transmitter hunting which is a form of Radio Direction Finding for sport. Anybody misusing one of these devices is likely to be found easily by Amateur Radio operators and be reported to authorities. Considering the heavy transmitter duty cycle in maintaining a constant link with a remote head would mean this system would be an easier target to locate than most games of transmitter hunting played with weak-signal, intermittent, well-hidden transmitters.
In short, I'm not a programmer. The FCC still feels that I'm allowed to play with up to 1.5 kilowatts of transmitting power on a variety of bands to communicate as an Amateur Radio Operator. Far less complicated methods of making transmissions via radio do exist that reduce chances of being caught. Ary Boender has an entire website devoted to clandestine transmissions and there is an entire forum devoted to discussing these things. The Lincolnshire Poacher served its purpose for many years. Why ignore tradition and history when it shows far less complicated ways of accomplishing things?
2015-06-01
by , tagged as
I have been a bit busy this year. Outside limited ISO testing of Xubuntu during the 15.04, I have been somewhat "disappeared" in the Ubuntu realm. This kinda happens. In no particular order:
I am still working
I am technically a student again with studies at Lakeland Community College in Emergency Management that are intended to lead to a limited undergraduate degree
Slowly but surely I will get the backports in one of my PPAs verified for 14.04, 14.10, and 15.04 of pumpa and dianara that came out of Wily Werewolf's copying from Unstable...and then I'll file the bug asking for action to be taken...
I finally connected the Arduino Uno to my laptop, uploaded the Blink example sketch, and verified that the board hadn't been fried from static electricity in storage.
My ARM boards remain in storage due to the present circumstances

I haven't considered officially whether or not to "refresh" the Raspberry Pi B by purchasing the Raspberry Pi 2
The BeagleBoard-xM is getting old and dead-end with the OMAP chip that isn't really favored anymore

I might replace it in lieu of refreshing the Raspberry Pi
Re-purposing the hardware is still an option to consider, perhaps

There is no ETA for when things re-surface from storage

My involvement in the Wily Werewolf cycle may be limited

I want to do more testing of Xubuntu's core
Eventually I want to help people understand that if you're swapping out bits of the core for other bits...then it isn't Xubuntu anymore...
2015-04-20
by , tagged as
As strange as it feels to wind up really writing this: Yes, I still exist.
Circumstances are not playing in my favor right now. Work is still a not very happy place. My involvement in Xubuntu had to be curtailed to mostly ISO testing on live hardware as that was what I could spend off-duty hours on. My involvement in Ubuntu Ohio has been set back quite a bit as I have been in a very difficult work environment with some new anomalous happenings as of late to still rectify. Losing my home this month, though, resulted in my having to make some changes.
If anybody watches my wiki.ubuntu.com page they might notice it occasionally gets updated. The wiki even allows you to subscribe to pages to watch for updates, too. The absence of any reference to ARM boards like the now-ancient BeagleBoard-xM and the venerable Raspberry Pi Model B simply means that they're in cold storage. I needed firm, reliable software so my laptop was downgraded from testing Vivid Vervet back to 14.04 to have a stable base to work from.
I'm in a temporary yet undisclosed location as I look to secure a new home. For now things are secure. I still go to my day job even. Things are just greatly in flux right now.
Now, if I could just get back to LoCo Council affairs properly...
2015-03-08
by , tagged as
It is fairly easy for me to feel disconnected from the community. Due to the nature of my job I am not to be playing with my phone. I cannot have blogs open let alone anything else not mission-related at work.
One thing that does hold me back is that I don't even have an IRC client on my phone. I use a Lumia 635 which means I'm running Windows Phone 8.1. The app choice isn't totally perfect but the price of the handset was within the realm of reason compared to others considering I do not have a subsidy contract and am in no position to support a subsidy contract consistently.
Suggestions are welcomed, of course, relative to that particular ecosystem. I cannot purchase a phone from BQ as they're not FCC-rated to legally operate in the USA. As for flashing a different sort of phone with Ubuntu Touch, I need to wait on funds availability to open up.
As I've told others, the Windows Phone 8.1 device is a stopgap measure until an Ubuntu Touch phone is available on a retail basis. Currently the word from Canonical is that release is going to be a bit exclusive and treated more like a luxury good. This means I need to get as much mileage as I can out of this stopgap measure until things change.
2015-02-24
by , tagged as
I hate getting anywhere close to asking for help.
In January I was required by work to step down from Xubuntu Team due to the nature of work duties. Missing too many IRC meetings for months and months makes membership in that body notional rather than actual. As quite a bit of LoCo Council work takes place during e-mail I can keep up there though my e-mails may come at odd hours of day.
Due to issues cropping up at a high executive level at work, my working season this year may be truncated compared to last year. While I had a working season I was covered by "unemployment compensation" through the remainder of the calendar year to keep food on the table. Certain requirements have to be met for said funding to be available, though.
As things currently stand, my teammates and I are at risk of being sent into an extended period of leave without pay in as little as 36 business days. We've only been back on the job for six weeks. Due to unusual instructions and operating cuts issued from a very high executive level, our time back on the job has been punctuated so far with strange changes where we're turning customers away and are effectively forcing customers to rely on self-help options whether they understand how to use them or not.
Right now is not the time to get worried and start fleshing out contingencies. Among my team at work we're expecting to start that at some point within the next two weeks but not immediately today. Management promises nothing and we expect no promises from management.
With as hamstrung as the local job market currently is and the amount of drag created by seeing my employer's name on my resume, I would likely have to start fundraising to be employed on a project. Though gofund.me and Patreon are put forward as options, they're not really oriented to funding the projects that I would be likely to work on. One local project needing attention is cleaning up Sunshine Law and Public Records compliance for a small special services district that would not be able to pay for such let alone deploy any F/LOSS for use by that agency such as LibreOffice. That would be a place for *buntu to shine. Another would be helping deploy self-hosted services for entities like local churches that frankly don't have much financially but could stash an RPi 2 running Snappy somewhere.
I still have to nail down fiscal agents. I still have to nail down figures. It is doable to lay the framework for raising cash. Whether or not anybody would support work is something I still have to consider. Then again, narrowing down the specifics of the work itself has to happen too. There is still time to do that though too much uncertainty in the mix coming from the current employer.
More may be written about this. As my mother would say to me growing up, nobody will know something is wrong unless you say something. At present the small-c canonical GnuPG key for contacting me is 9C4B2D87.
2015-01-01
by , tagged as
Stephen Michael Kellat also said that he is leaving the Community, just some events will keep him at bay from doing something within the Community.
If anything that probably should have read instead:
Stephen Michael Kellat also said that he is not leaving the Community, just some events will limit him from doing as much as he had been within the Community.
Transitions are never easy to do. The Ohio Leadership team now takes the lead in community life for Ubuntu Ohio. No silly names of council or board or what have you. They, that is to say Svetlana Belkin, James Gifford, and Unit193, are the Ohio Leadership Team. If these names seem familiar to you even outside Ohio, it is okay. From AskUbuntu to Ubuntu Women to Xubuntu to Ubuntu Documentation, the three of them have all stood and continue to stand as leaders in the overall Ubuntu realm.
I look forward to the Ubuntu Global Jam event being worked on by Ohio Leadership that may take place at one of the Ohio state park lodges near the center of the state. That sounds like a nice place to rally. I look forward to taking part even if I will not be a main organizer.
I remain a member of LoCo Council at least through the end of my term. My contributions to Xubuntu will be a bit more limited than I would like. Dog-fooding Xubuntu Vivid Varmint...scratch that, make that Vervet, certainly has proved interesting thus far.
I'm still out there. As we begin a new year I've received written orders calling me to a new adventure at work. I am, of course, always looking for far more stable employment that would allow me to contribute more.
---
And as we are starting the new year, I'll link to pundit Moe Lane's 2015 predictions and provide a few of my own:
Snappy will exit alpha and use LXC more
Somebody will smuggle an Ubuntu phone into the USA and the FCC will get upset
We will have two awesome releases this year
I will pick up programming skills in at least one programming language
Juju + Herd of Raspberry Pi = Successful parallel transcode cluster
We will see an *buntu preloaded machine available from a big box retailer such as Wal-Mart or Dixons Carphone.
I will be an expat again although whether or not it is my preferred choice would be questionable.
It will be interesting to see what comes true...
To every thing there is a season, and a time to every purpose under the heaven: A time to be born, and a time to die; a time to plant, and a time to pluck up that which is planted; A time to kill, and a time to heal; a time to break down, and a time to build up; A time to weep, and a time to laugh; a time to mourn, and a time to dance; A time to cast away stones, and a time to gather stones together; a time to embrace, and a time to refrain from embracing; A time to get, and a time to lose; a time to keep, and a time to cast away; A time to rend, and a time to sew; a time to keep silence, and a time to speak; A time to love, and a time to hate; a time of war, and a time of peace.
I figured it best to start with a quote from something in lieu of the Ubuntu Code of Conduct. Colin Watson did that not that long ago. Unfortunately I have slightly different circumstances and lead time.
Based upon verbal and written orders received early Tuesday, I will be heading back to work soon for some not so nice people. Current "operational security" and "force protection" alerts have been warning staff to minimize their online presences and to get very antisocial for the sake of their own self-preservation. As I work for a non-defense/non-security agency, it bothers me greatly to have things like this pop up. I have to figure out how to square such with being able to live a healthy life.
Svetlana Belkin announced on the Ubuntu Ohio mailing list that the community will hold an IRC meeting on December 26th at 8 PM local time in the team's channel. We had to move a bit quickly in scheduling this but it will eventually be archived in the right part of LoCo Team Portal.
The last regular item on the agenda for the meeting will be discussing the transition of leadership for Ubuntu Ohio. We will certainly be putting in motion actions to have an excellent Ubuntu Global Jam for the Vivid Vervet cycle. The pressures of work in an environment that is going to be a bit overheated in contrast to when I was laid off will mean I cannot plan our Jam let alone lead it. The Ubuntu Code of Conduct calls for stepping down considerately and we're shooting to have new leadership in place to start calendar year 2015.
With the recent bulk-up of LoCo Council staffing to seven, I plan to remain a member of that body even if I am not taking charge on matters. We have lots of work before us. Considering a move of our regular meetings from 1800 UTC on the third Tuesday of each month to a different time slot may be considered further as that time was growing difficult for use.
I intend to continue work on backporting pumpa and dianara to ensure the latest versions of those pump.io network clients are available.
As for continuing to be part of Xubuntu Team, I need to discuss that further with the Xubuntu Project Leader. A mutual decision is required there. I also have to ensure that tasks do not merely fall but are still picked up if they happened to be under my responsibility.
I don't like this. I would prefer to avoid this. There is a time and a place for everything and for now I have some changes to adapt to.
2014-12-17
by , tagged as
As leader for Ubuntu Ohio, I wind up facing unusual issues. One of them is Citizenfour. What makes it worse is where the film is being screened.
In general, if you want to hit the population centers for the state you have three communities to hit. Cleveland, Columbus, and Cincinnati are your target areas to hit. The only screenings we have are in Dayton, Columbus, and Oberlin. One for three is good in terms of targeting population centers, I suppose.
I understand the film is controversial and not something mainstream theaters would take. Notwithstanding its controversial nature, surely even the Cleveland Institute of Art's Cinematheque could have shown it. For too many members of the community, these screenings are in unusual locations.
Oberlin is interesting as it is home to a college which is known for leftist politics and also for being where writer/actress Lena Dunham pursued studies. Oberlin has a 2013 population estimate of only 8,390. For as distant as Ashtabula City may seem to other members of our community, it is far larger with a 2013 census estimate of 18,673. Ashtabula County, in contrast to just Ashtabula City, is estimated as of 2013 to have a population of 99,811.
For some in the community this may be a great film to watch, I guess. Considering that it is actually closer for me to cross the stateline into Pennsylvania to drive south to Pittsburgh for the showing there we have a problem. These are ridiculous distances to travel round-trip to watch a 144 minute film.
Now, having said this, I did have an opportunity to think about how we could build from this for the Ubuntu realm in the United States of America. A company known as Fathom Events is available that provides live simulcasts in a broad range of movie theaters across the country. The team known as RiffTrax has done multiple live events carried nation-wide through them.
I have a proposition that could be neat if there was the money available to do it. For a Global Jam or other event, could we stage a live event through that in lieu of using Ubuntu On-Air or summit.ubuntu.com? The link to Fathom above mentions what theaters are participants and the list shows that, unfortunately, this would be something restricted to the USA. There is a UFC event coming up as well as a Metropolitan Opera event live simulcast.
We might not be able to implement this for the 15.04 cycle but it is certainly something to think about for the future. Who would want to see Mark Shuttleworth, Michael Hall, Rick Spencer, and others live on an actual-sized cinema screen talking about cool things?
2014-11-28
by , tagged as
Today is a special day for retailers in the United States of America. Black Friday is a day when retailers traditionally got their sales into the positive for the year (otherwise known as the black from accounting lingo). Many shoppers will be seeking great buys. Having worked in retail as a salesman in consumer electronics retail I will not be venturing out into the madness unless some unforeseen emergency arises.
Something important will be missing as shoppers swarm stores. There won't be installation media for any flavor of Ubuntu. There won't be any Ubuntu Phone or Ubuntu Touch devices on the shelves for purchase. There won't be anything audacious like a scaled down version of the Orange Box demonstrator of Metal As A Service that people could buy to build their own in-home "dark" infrastructure.
This isn't the year when we have something customer-facing in mass market retail. We need to get something out there soon. Our story is one to be shared with the average consumer.
Entering the Linux realm should not be a treasure hunt. We've moved a long way from the 20+ floppy disks for Slackware. We're not totally there yet for the consumer except in two very, very limited cases.