Analyst firm A-V Comparative has released its November 2013 list of the antimalware programs that do the best job of removing malware from an already infected system.
What does this mean? As A-V Comparative notes, most PC users don't consider antivirus protection until their computer has already been infected, so its intent was not to review detection rates but rather how well these software packages clean malware they've already identified.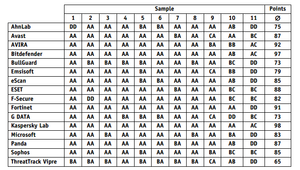 With that said, several popular packages earned the top, three-star rating: Kaspersky Lab, Bitdefender, Avira, FortiNet, ESET, Avast, and Panda—listed in order of their performance. Kaspersky was ranked the highest of all of the packages tested.
"Good malware detection is very important to find existing malware that is already on a system," the report states. "However, a high protection or detection rate of a product does not necessariy mean that a product has good removal abilities. On the other hand, a product with a low detction rate may not even find the infection and be able to remove it."
To read this article in full or to leave a comment, please click here